Cubist culture
Minimalism is about paring life down to the essentials – less is more. So a minimalist interior contains just those few items of furniture you really need. In general, these pieces are modern, with an artistic design that is both functional and striking.
In a minimalist living room, you want a sofa with a sleek design and a few stand-out details – but without compromising on comfort or practicality.
Scandinavian designer couch "LARDOS"
---
Discover the different styles
Practically perfect
Minimal design, maximum comfort
The "LARDOS" has a sleek, cubist design. But make no mistake – despite its minimalist appearance, the sofa is extremely comfortable. Do you like curling up in front of the TV of an evening? Then you will love the cosy supreme foam padding.
The details complement the design
Exquisite upholstery and stitching
The "LARDOS" sofa blends perfectly with the simplicity of a minimalist living room. But the elegant cubist look is punctuated by some eye-catching design details, such as special stitching and the option of combining textures and colours for a duo upholstery effect.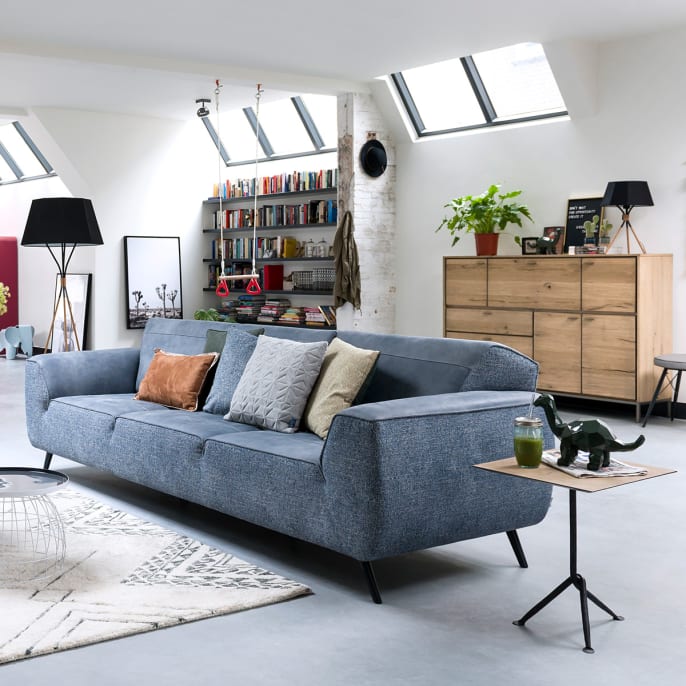 A blend of colours and textures
Colour conscious
A combination of textures can offer a subtle hint of variation in a minimalist living room. It breaks up the monotony while maintaining a clean, modern look. You can even play with colour to spice up your space – but don't take it too far! Choose one stand-out piece in a bold colour and keep the rest neutral. Our pick? Minimalist blue tones.
What design best complements your interior?
Design your own sofa
The "LARDOS" designer sofa not only gives you the possibility of choosing your upholstery – with a wide variety of colours in fabric or leather and the option of combining two materials. The sofa is also modular, so you can arrange it entirely as you wish, from a compact love seat to a spacious corner sofa.
And what frame will you opt for: diagonal legs in black metal or stainless steel, or angular legs in natural or black wood?
Surprisingly versatile
A Scandi touch or an industrial look
The "LARDOS" can add a cubist touch or serve as an eye-catching centrepiece in a minimalist living room. But the sophisticated design is a perfect fit for all interior styles. With soft padding and pastel shades, the designer sofa works wonderfully in a Scandi-themed living room. Or opt for resistant leather or coarse fabric to create the ideal sofa for an industrial interior.