Subtle elegance
Natural simplicity with a unique character
The FANEUR collection features delicate, sophisticated pieces with an understated elegance. Light oak is the ideal basis for a Scandi-style interior. The exquisite planed wood finish is beautifully subtle, contributing to the rustic feel that characterises Scandinavian decor.
Simplicity is the key
Light oak & metal contours
The furniture in the FANEUR collection is characterised by its use of natural wood. Combined with an elegant metal frame and handles, this gives each piece a simple, rustic, unique appearance. Like the interplay of Yin and Yang, the FANEUR collection offers a perfect balance. The ambient LED lighting and soft-close doors and drawers ensure that the furniture is handled gently, with a light touch.
Accessories with geometric features or printed designs work perfectly in a Scandinavian interior
---
Anke
Stylist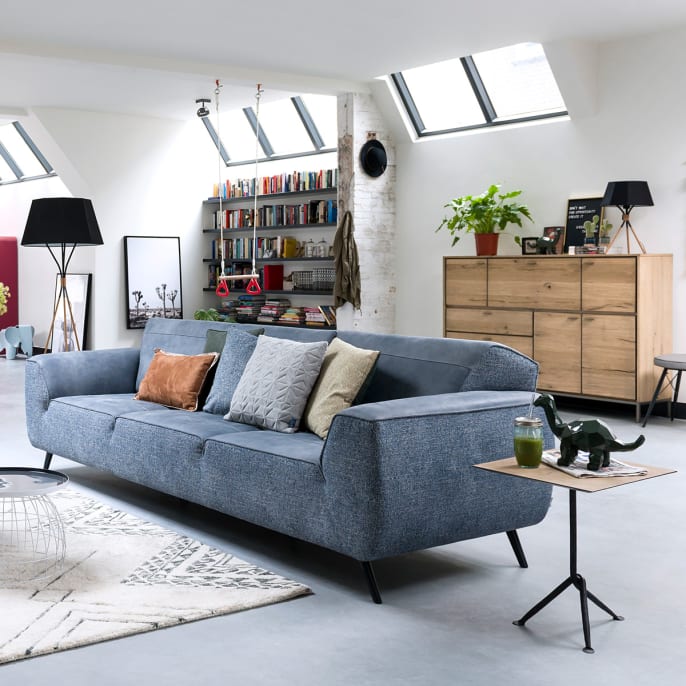 Nordic Living
Scandi design: bright and natural
Do you find yourself whiling away the hours on Pinterest and Instagram looking for inspiration for a new Scandinavian interior? Then read on and discover how to turn your living room into a Nordic Valhalla! Light colours and natural materials are the keys to this popular style. So the light oak wood in the FANEUR collection fits perfectly in a Scandi-style space. It creates a tranquil basis with a timeless feel, to which you can add any style. Be bold and combine the collection with earthy shades! In our view, the central piece in any Scandinavian interior is a cosy fabric-upholstered sofa. Not one of those sagging, shapeless sofas, but a carefully chosen piece with a sleek design and straight lines, where you can settle down after a hard day's work. The "LARDOS" model, for example, is comfortable but also offers an elegant, modern, fresh style. It is a Scandi-inspired sofa that is full of character and also blends perfectly with the "FANEUR" range.
We could give you a whole host of tips and suggestions, but the most important thing is to learn to listen to your own style. There are no rules. Don't forget to add a personal touch to your interior. Do you fancy blending a range of different styles? Then go ahead! We certainly won't stop you – the most important thing is that you enjoy yourself when creating your interior!
XOOON's favourites
Bestsellers of the "FANEUR" collection