#Stories
International trends at XOOON
by Nicole van Riel
01 June 2018
Visible frames, colourful fabrics and elevated legs
In May, we held the latest edition of our twice-yearly international fair for retailers. Over a period of three weeks, we gave them a glimpse of the new products that you will be seeing in stores in six months' time.
For the event, we created a series of rooms arranged in a way that showcases our furniture in the best possible light. Well done to our top designers, whose efforts perfectly reflected the latest international trends (like those that we saw recently in Milan)! And because I'm so proud of our new 2018-2019 autumn/winter collection, I'm going to give you a few spoilers...
At XOOON you will find all the latest international trends! Which ones are you looking forward to seeing in your interior?
---
Nicole
Behind the scenes
What characterises the furniture in the new collection?
The new collection has a resolutely designer feel. This autumn the focus will be on delicate structures, slender armrests, graceful frames, sleek and elegant lines and rounded edges. Cupboards and sideboards with high legs, dark wood combined with light front surfaces and metal surrounds – it's reminiscent of Italian-designed furniture, only at much more affordable prices! One of the most distinctive trends for next season is visible frames, on cupboards and sideboards as well as armchairs, chairs and sofas. These structures that were previously hidden away under the surface of cupboards and sofas have now become a key design factor.
Everything on the table
Where would your interior be without a side table?
Side tables play an important part in any design scheme. But the traditional coffee table is now being replaced by a combination of side tables. They create a more airy feel in the room, and next season will be dominated by eye-catching shapes –pentagons, ovals, even kidney beans! They also come in different heights so that you can slide one under another.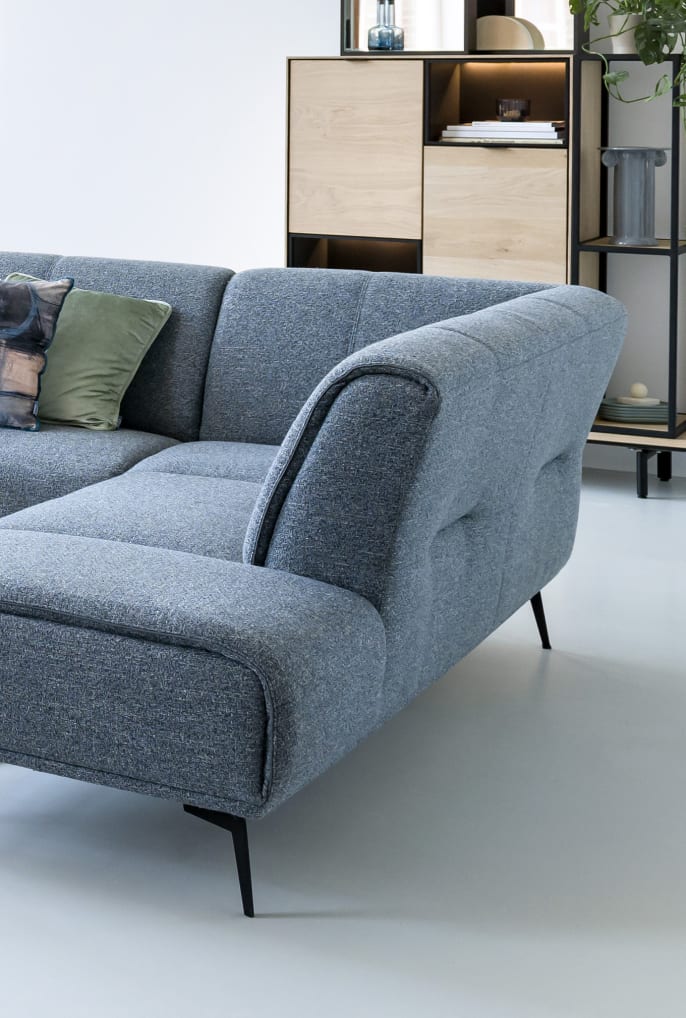 70's Spirit
Vintage fabrics and original colours
When it comes to fabrics, the season will be dominated by soft, rich materials with exaggerated textures. They can easily be mixed and matched with other materials and fabrics in our collection. The trend will be towards warm shades, drawing on grey. There will be a wide range of tertiary colours, also known as unsaturated colours, which come from blends of secondary colours. Ochre shades are a good example. And contrast will be all the rage! Feel free to combine a grey sofa with a yellow recliner, for example, or a rust-coloured sofa with a dark green chair. Don't worry too much about the detail. Give your sofa that extra special touch by opting for a frame in a contrasting colour – and how about adding a fashionably eye-catching velvet cushion?