#Tips
4 (top secret) tips from our XOOON stylists
Do you fancy being able to open your front door and walk into an interior that comes straight out of a design magazine? It's entirely possible! Create your perfect interior with these four top tips.
There is beauty in simplicity
The power of simplicity
The saying "less is more" may seem a bit of a cliché, but that doesn't make it any less true. Neutral colours and natural materials create serenity and space in your home. And if you find that things are looking a little bland, add a splash of colour or combine several complementary shades. After all, you're the boss! Choosing and blending colours can be a tricky task, but our expert stylists are on hand to offer you the guidance you need. Read on to find out more.
Easy as ABC
Creating balance with the rule of three
What is the ultimate secret to a great interior? Look no further than the "rule of three". This basic principle can be applied in many different ways. For example, if you're wanting to combine several colours, opt for three complementary shades: one dominant colour that you plan to use the most; a secondary colour to alternate with it; and a few splashes of an accent colour here and there. Another way of applying the rule is to combine three sorts of materials, such as wood, metal and leather. You can even create series of three objects, for example a painting, a side table and an armchair, or two coffee tables and a pouf, or simply a series of three lamps above your kitchen table.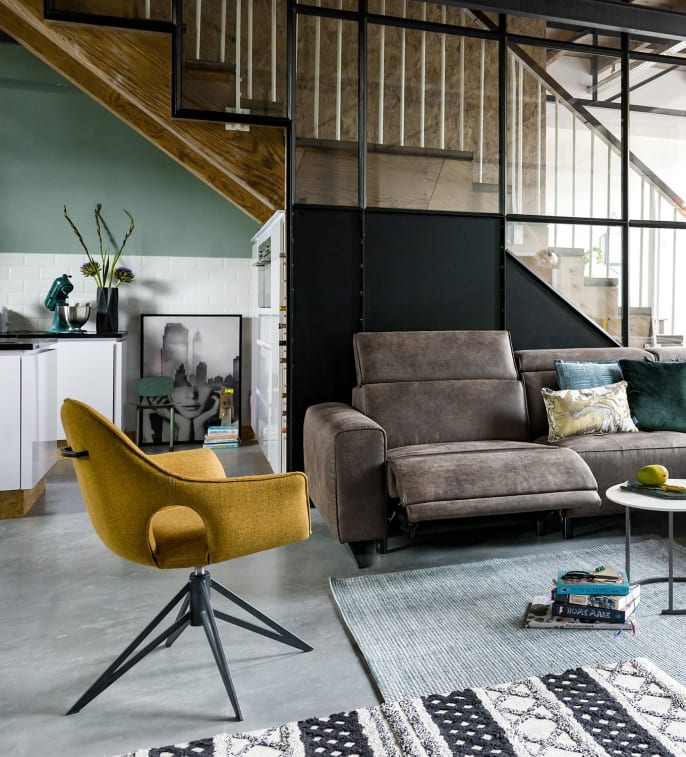 Create a sense of surprise
The key to any interior
A rule of thumb for all stylists (they use it over and over again) is to work with a few stand-out pieces of furniture. But be careful to maintain a balance – don't take it too far. You don't want all your furniture to be off the wall (pardon the pun). Avoid creating a riot of different elements. So what's the best approach? One idea is to choose a set of chairs, an armchair, a sofa or even a cupboard in an unusual colour. Or if you're not a fan of bold shades, opt for a cupboard or a sofa with a stylish frame, or a chair with a contrasting surround. Sometimes it's the little details that make all the difference.
Last but not least
Buck the trend and follow your own style
This is probably the best-kept secret of XOOON's stylists: play by your own rules! You can apply our ideas in any number of different ways. You don't need to follow every piece of advice literally. After all, rules are there to be broken! That's what we think at XOOON, anyway. We would be delighted to see you create your own unique style.